Stainless Steel Fittings and Flanges
STAINLESS STEEL PIPE FITTINGS
ASTM A403 WP 304/304U 304H/316/316U 317/317U 321/310/347/904L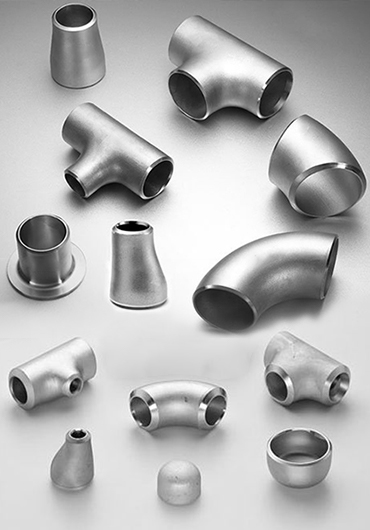 ♦ Stainless Steel Fittings
Stainless steel pipe fitting is a component that connects pipe to pipe. Its purpose is to connect, control and change the direction, split, seal, and support various parts and components in a pipeline system. When selecting and preparing proper pipe fitting to join together, there are various types, sizes, grades, and specifications to meet specific requirements.
These useful fittings come in a variety of forms, depending on their intended use:
Elbows are utilised to change a pipeline's course.
Reducers are required to lower or expand the pipe bore size.
Tees or Crosses are used to divide the flow through the pipe in a variety of ways.
Caps are employed when the pipeline must be shut down.
Dimension
Pipe fittings are scaled to nominal pipe size (NPS), which runs from 1/2 inch to 24 inches, and thicknesses are designated in schedule no, which goes from SC 5 to 80S. Size tolerances should be managed following standard standards on both the exterior and interior.
1/2" to 24" seamless type SCH 5S to XXS
2" to 48" welded type SCH 5S to XXS
Pipe Fitting Joint method
Butt welded pipe fittings
Threaded fittings
Sleeve pipe fittings
Clamp pipe fittings
Socket pipe fitting
Manufacturing method and process
A buttweld fitting is created by the process of hot or cold forming, which means it is bent and moulded to the desired shape. Heat treatment is also used to minimise residual stresses and achieve desired mechanical properties. The ends of buttweld fittings must be bevelled, and the exact shape of the bevel is determined by the wall thickness of the pipe to which it is attached. Buttweld fittings may be made of a variety of unusual materials, including super duplex, nickel alloy, and 6% Moly. The material of the fitting is usually the same as the pipe system to which it is welded.
Application of stainless-steel pipe/buttweld fittings industries
Buttweld fittings can be used to change, split, or stop the flow of fluids in a range of sectors. Waste treatment facilities, chemical processing, breweries, petrochemical facilities, cryogenic plants, paper manufacture, gas processing, and even nuclear power plants are examples of these processes. The variety of uses indicates the resilience of a buttweld fitting and the reliance on this type of fitting.
Stainless steel fittings are resistant to corrosion
Stainless steel fittings are strong and long-lasting
Extreme temperatures do not affect stainless pipe fittings.
Stainless fittings provide a higher strength-to-weight ratio
Stainless steel fittings are visually pleasing.
The main type of stainless-steel fittings:
We also provide a large selection of Stainless-Steel Elbow Pipe Fittings for Buildings and other related sectors. Meanwhile, we provide these SS Elbow Pipe Fittings at a lower cost. We offer a diverse assortment of Stainless-Steel Butt Weld Fittings to our clients in response to their various needs.
Stainless reducer
Stainless steel caps
Stainless steel tee
Stainless Steel Stub End
Stainless pipe elbows
Stainless steel metal hose
♦Stainless Steel Pipe Flanges
STAINLESS STEEL PIPE FLANGES
ASTM A182 F304 / 304U / 304H / 310 / 316 / 316L / 317 / 317L / 321 / 347 / 904L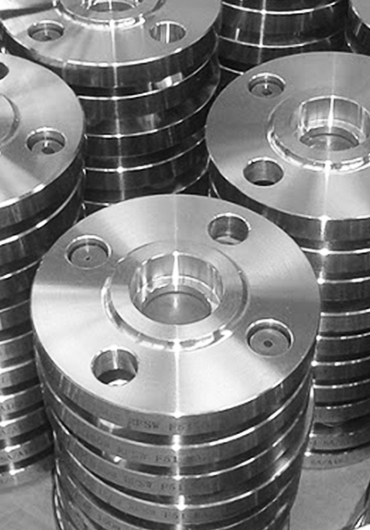 In plumbing applications and food and dairy processing, stainless steel flanges link with pipes and fittings to form a piping system that supplies air, water, natural gas, oil, and steam. Flanges provide for easy cleaning, inspection, and modification. Blind, butt weld, lap joint, slip-on, socket weld, and threaded flanges are available in a range of sizes and forms. Stainless steel is strong and resistant to corrosion from caustic chemicals, corrosive fluids, oils, and gases, as well as pressure and high temperatures.
The prominent necks of these flanges make them easy to identify. Weld neck flanges are intended to endure high pressures and temperatures and will match the pipe's diameter and bevel.
These flanges are useful for sealing vessel apertures or pipe systems without a hole in piping systems or vessels that require periodic inspection. Blind flanges with or without hubs can be employed. The flange can easily sustain significant stress due to internal pressure.
Because they are bigger in diameter than the pipe, these Stainless Steel 310 Flanges are welded to a position and are ideal for low-pressure applications. Because they are welded to a spot, they may simply be slipped over the pipe.
These flanges are used in the chemical processing industry because they are designed for high-pressure pipelines with tiny diameters. Internally welded socket weld flanges add to the fatigue resistance of the product.
These flanges may be used for a variety of applications and can be assembled without the need for welding. Externally threaded pipes are suitable for stainless steel threaded flanges, which should not be utilised at high pressures or temperatures.
Flanges constructed of low alloy steel or carbon steel are slip-on flanges that may be utilised with stub end fittings. They are ideal for use on pipeline systems that require regular inspection and maintenance, such as low alloy steel or carbon steel pipes.
Steel flanges are used to obtain access to a line to metre liquids or gases. In the orifice flanges, orifice plates or flow nozzles are inserted.
In high-pressure and high-temperature applications, flanges with a ring-type junction are used. The ring-type joint flanges on blind, slip-on, or weld neck flanges have a squeezable groove. Flanges help to prevent leaks in pipes that transfer media at high pressures and temperatures.
The Benefits and Uses of Stainless-Steel Flanges
For good reason, stainless steel is employed in a wide range of applications, both home and industrial. It is corrosion resistant, temperature resistant, simple to manufacture, and attractive. Stainless steel flanges provide all of these advantages and more.
Stainless steel flanges are critical joining links for pipelines, valves, and other equipment in sectors such as gas, transportation, water, food and beverage, as well as power generation and chemicals. Flanges provide various advantages in these industries:
Easy Access
The use of flanges in industrial applications allows for a simple inspection, modification, and cleaning, which is critical in any application.
No welding, painting or blasting
The use of flanges avoids the requirement to weld the pipe spools. Painting and blasting are not required, as are other fits and procedures.
Fast fabrication and ease of modification
Our workshop can produce a large number of pipe spools with reasonable simplicity and speed. They may also change from one material to another, such as stainless steel to copper or brass as per the clients requirement.
EXPORT COUNTRIES
Ethiopia | South Africa | Ghana | Tanzania | Argentina | Bolivia | Brazil | Chile | Colombia | Ecuador | Guyana | Paraguay | Peru | Suriname | Uruguay | Venezuela
Our Products

Send us your enquiry today
We respond to all enquiries within 24 hours. Click on contact to send your requirement.
Contact us