Stainless Steel Coils, Plates and Sheets
The nickel-molybdenum-chromium wrought alloy HASTELLOY C-276 is typically used for corrosion resistance. One of the more popular Hastelloy grades for general corrosion duty is Hastelloy C-276. A better worked form of Hastelloy alloy C is Hastelloy alloy C-276.
STAINLESS STEEL SHEETS & PLATES
Plates as per ASTM A240, Gr.TP 304,304L, 304LN, 309, 309S, 309H,310H, 316, 316L, 316H,316LN,316Ti ,317,317L,321,321H ,347,347H,409,410, 420, 430 etc.
STAINLESS STEEL PLATES, SHEETS & COILS SPECIFICATION
Standard
ASTM/ASME A240, SA240
Grade
304, 304L, 304LN, 309, 309S, 309H, 310H, 316, 316L, 316H, 316LN, 316Ti,317, 317L, 321, 321H, 347, 347H, 409, 410, 420, 430 etc.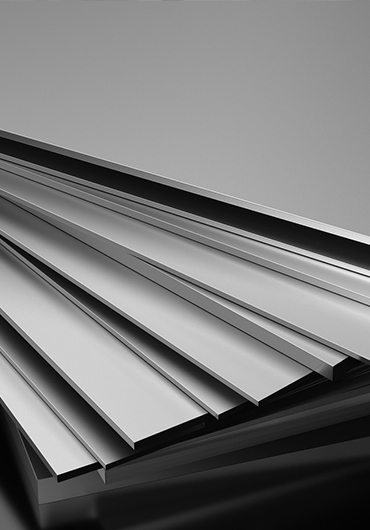 ♦Stainless Steel Coils
Steel coil after rolling, a completed steel product such as sheet or strip that has been twisted or coiled Based on the knowledge gathered over the years, Renaissance Metal Craft Pvt. Ltd divides steel coils into hot and cold-rolled varieties, or stainless-steel coil, carbon coil, and galvanised steel, following current products and international standards.
Cold-rolled sheet in coil form is made by eliminating rust from a hot-rolled sheet by "pickling" it in a mild acid solution, then washing, brushing, drying, oiling, and unrolling the sheet, and lastly cold-rolling it by running it under pressure through a reduction mill and winding it into a roll. Cold-rolled steel is a more refined product with a smoother surface, greater dimensional precision (thickness, breadth, and length), and higher strength. The automobile sector uses a lot of cold-rolled steel, but it's also utilised to make home items.
Stainless steels are distinguishable from carbon steels by their chromium and, in certain circumstances, nickel presence. When chromium is added to carbon steel, it becomes more rust and stain-resistant, and when nickel is added to chromium stainless steel, it improves mechanical qualities such as density, heat capacity, and strength. A stainless steel sheet is used in the manufacturing of equipment, tools, and containers, among other things.
Carbon coil is a form of steel with few components other than carbon, silicon, manganese, sulphur, and phosphorus, and hence no substantial alloying element. Carbon coil is suitable for second-grade applications that do not place high demands on surface quality. Carbon coil steel from Renaissance Metal Craft Pvt. Ltd is available in several grades and thicknesses to accommodate the metal's numerous uses. Carbon coil is available in hot rolled, cold rolled, galvanised, aluminized, and painted forms. The following grades are available: CS-B, FS-B, DS-B, DDS, EDDS, A36, SS Grades 30-55, A572-50, HSLA Grades 40-80, and A606.
The galvanized coil is created by coating hot or cold rolled sheets or strips with zinc using either the hot-dipping or electrolytic deposition procedures. The zinc coating deposited by the hot dip process is often substantial enough to prevent corrosion without the need for additional protective coating. Because of the thin zinc coating, materials electro galvanized are not suitable for corrosion-resistant applications without following chemical treatment and painting, especially in moderate corrosive circumstances. Galvanize is a zinc-based coating. Galvanneal is the outcome of a unique heat-treating technique that turns the pure zinc coating into a zinc/iron alloy coating. Galvanized sheet is utilised in a variety of industries, including the automobile sector and the manufacture of roofing materials (e.g., flashing, guttering).
♦Stainless Steel Plates
Stainless steel is simply low-carbon steel that includes 10% or more chromium by weight. This chromium addition provides the steel with its distinctive stainless, corrosion-resistant qualities.
Because of the steel's chromium content, a rough, adherent, invisible, corrosion-resistant chromium oxide coating forms on the steel surface. If this film is physically or chemically damaged, it will self-heal if oxygen is present, even in small amounts. Increased chromium concentration and the inclusion of additional elements such as molybdenum, nickel, and nitrogen improve the steel's corrosion resistance and other beneficial qualities.
There are about 60 different grades of stainless steel. The entire group, however, may be split into five families. Each is characterised by the alloying components that impact its microstructure and are known as alloying components.
Features of Stainless-Steel Plates
Uniform quality
An integrated quality system ensures uniform quality in products with exceptional formability and corrosion resistance from steel production through the final process.
Attractive Finishes
Stainless steel finishes are preserved in pristine condition at all times, and automated control technology is employed to ensure great dimensional correctness. Renaissance Metal Craft Pvt. Ltd 304L has received widespread praise for its superior quality and gorgeous shine.
Products for Every Application
Renaissance Metal Craft Pvt. Ltd has a large selection of stainless-steel kinds. Most stainless-steel manufacturers in China may be combined by Renaissance Metal Craft Pvt. Ltd. If you have special demand, please contact us so that we may find better options.
Excellent Corrosion Resistance
The atmospheric corrosion resistance is particularly visible, as is the welded area.
Price Competitiveness and Stability
Even when the price of nickel and molybdenum raw materials skyrockets, the price of the stainless plate without nickel is lower.
Good Formability
When compared to other conditional stainless steels, it has the same or greater formability.
Excellent Physical Properties
Stainless steel from Renaissance Metal Craft Pvt. Ltd has superior thermal conductivity, a lower thermal expansion coefficient, and a lower material weight for the same size as other providers.
Heat Resistance
304 offers strong oxidation resistance in intermittent service up to 870°C and continuous operation up to 925°C. Continuous usage at 425-860°C, on the other hand, is not advised if water corrosion resistance is necessary. Because of its resistance to carbide precipitation, 304L is suggested in this case.
Grade 304H is indicated for high strength at temperatures over 500°C and up to 800°C. This material will remain resistant to water corrosion.
Fabrication
All stainless steel should be manufactured using only stainless steel-specific tools. Before usage, all tools and work surfaces must be well cleaned. These measures are required to avoid cross-contamination of stainless steel by readily corroded metals, which may discolour the surface of the manufactured items.
Cold Working
304 stainless sheets of steel work harden easily. Cold working fabrication processes may necessitate an intermediary annealing cycle to ease work hardening and prevent ripping or cracking. A thorough annealing procedure should be used after manufacture to decrease internal tensions and optimise corrosion resistance.
Hot Working
Fabrication processes involving hot working, such as forging, should occur after consistent heating to 1149-1260°C. To provide optimal corrosion resistance, the produced components should be immediately chilled.
Heat Treatment
Heat treatment cannot harden 304 stainless steels. Rapid cooling following heating to 1010-1120°C might be used for solution treatment or annealing.
♦Stainless Steel Sheets
Stainless steel sheet metal and plate items are less likely to discolour, corrode, or rust than carbon steel. A stainless steel sheet and the plate are widely sought-after metals for applications needing a durable metal with favourable anti-oxidation rates due to its enhanced strength, impact resistance, anti-bacterial characteristics, and aesthetic appeal.
Stainless steel, often known as Inox steel or Inox from the French word "inoxydable," is a steel alloy having a minimum chromium concentration of 10.5% to 11% by mass. Nickel, molybdenum, and niobium levels are present in Balance.
Although stainless steel is resistant to corrosion, it is not completely stain-proof. When the alloy type and grade are not stated, it is sometimes known as corrosion-resistant steel or CRES (specifically in the Aerospace industry). Stainless steel comes in a variety of grades and surface treatments to suit a wide range of applications. Stainless steel is mostly employed when both steel mechanical characteristics and corrosion resistance are required.
Stainless steel is used in a variety of sectors, including Aerospace, Automotive, General Engineering, Oil & Gas, High Tech, and Medical.
There are several grades of stainless steel, each having a unique combination of iron, chromium, nickel, and other metals that give them their distinctive features and characteristics. The crystalline structure divides these stainless steel grades into five categories: austenitic, ferritic, martensitic, duplex, and precipitation-hardening. We have a lot of experience with the 300 series and 17-7 Precipitation Hardened steel, which are nonmagnetic nickel-based alloys that come in annealed (very formable) and hard tempers.
The 300 series stainless steel sheets are the most common austenitic stainless steel subgroup. The austenitic Type 304 (also known as 18/8 or A2) stainless steel grade is the most often used in domestic and industrial applications like food processing equipment, screws, machinery parts, and external architectural features. Renaissance Metal Craft Pvt. Ltd sells a variety of high-quality stainless steel, each grade individually designed to function under certain situations. Renaissance Metal Craft Pvt. Ltd has thin steel sheets, foils, and strips to meet your specifications.
Photo and chemical etching, laser and waterjet cutting, and precision stamping are used to treat materials. Our high-quality stainless steel for sale is utilised in the production of a wide range of commercial and aerospace equipment, including:
Shims
Laminated shims
Gaskets
Washers
Formed parts
Automotive
Marine
Medical
Aircraft / Aerospace / Military
EXPORT COUNTRIES
Ethiopia | South Africa | Ghana | Tanzania | Argentina | Bolivia | Brazil | Chile | Colombia | Ecuador | Guyana | Paraguay | Peru | Suriname | Uruguay | Venezuela
Our Products

Send us your enquiry today
We respond to all enquiries within 24 hours. Click on contact to send your requirement.
Contact us