ST 52 Seamless Pipes Manufacturer, Exporter & Stockist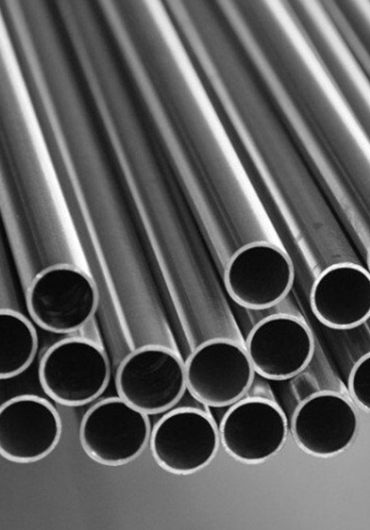 Renaissance Metal Craft Pvt. Ltd. is a leading manufacturer, exporter and supplier of ST 52 Seamless Pipes.
ST52 Pipes SMLS is low-carbon manganese steel. It is easily weldable and has high impact resistance. This covers situations with temperatures below zero. The ST52 Pipes SMLS is generally employed in untreated or normalised settings. Mechanically, these are quite similar to mild steel pipes. SMLS ST52 Pipes are mostly employed in welded components in general engineering and construction.
The raw materials utilised in product fabrication have been thoroughly examined. The most recent technologies and contemporary tools are quite beneficial in the fabrication of pipes.
On the basis of a few quality control measures, the quality control team is present and considering product quality maintenance. The product is produced in accordance with recognized industry regulations and specifications for the quality of the raw materials, which ensure standard quality.
The product has many exceptional qualities that make it a great option for a range of applications. The pipe is easy to use, has a long lifespan, and can withstand high temperatures. It also has a high tensile strength, a rigid construction, toughness, flexibility, and anti-corrosive qualities. Additionally, it has resistance to oxidation, general corrosion resistance, pitting, stress corrosion cracking, and crevice corrosion.
Material testing is valued in the manufacturing business to ensure the quality of ST52 SEAMLESS PIPE varieties produced. Positive material identification tests, pitting resistance tests, hardness tests, intergranular corrosion tests, mechanical tests, chemical tests, pitting resistance tests, flattening tests, flare tests, macro/micro tests, and so on are all performed. They are available in different standards like ASTM, ASME, AISI, DIN, BS, EN IS, JIS & other international standards. Our ST 52 Seamless Pipes comes in forms like Round ST 52 Pipes, ST 52 Square Pipes, ST 52 Rectangular Pipes, ST 52 Hex Pipes, etc.
Documents available include a quality assurance plan, heat treatment chart, raw material test report, packing list, material traceability report, lab test report, certificate of origin, fumigation certificate, and commercial invoice. Buyers are also given test certifications such as mill test certificates under EN 10204/3.1B, radiography test reports, third-party test reports, buyers' test reports, and raw material certificates.
We are one of India's largest producers of DIN 2391 ST52. Our goods are noted for their outstanding finishing and high quality. Clients can get the required tubes in a variety of diameters based on their needs. Our items may be completely customised. Our items are exported to many regions around the world. We supply these ST 52 Seamless Pipes to various industries & applications like oil & gas, power generation, water & sewage desalination plants, chemical & fertilizers industry, nuclear power, sugar industry, pharmaceuticals industry, defense, aircraft industry, pumps, condensers, pulp and paper industry, engineering products, etc.
We have a large supply of ST52 Honed Cylinder Tube in a variety of sizes and thicknesses, which are perfect for usage in Oil and Gas Pipelines. These are also employed in the low- pressure transportation of gas, as well as the movement of oil, air, steam, water, and a variety of other fluids. The ST52 Pipe is an economical alternative for equipment, irrigation, and building development.
The ST52 Boiler Tube is effective in applications involving high heat, and very cold or hot gases. One of the finest alternatives for high-temperature service applications is the ST52 Seamless Precision Steel Tubes. They are also incredibly dependable and cost-effective.
ST52 Hydraulic Tube is widely used in equipment and gas delivery in harsh environments. The ST52 Steel Material also has good weldability, which means that pipes and tubes constructed from it may be welded quickly. The 1.0570 Steel SMLS Pipe is available in a variety of shapes, including rectangle, square, and circulation. At the client's request, we can customise the shape of ST52.3 Ssteel Cold Finished Tube to meet their specifications. The ST52 S355 Annealed Tube has certain cold-forming properties as well.
Our ST52 4 Honed Tube is long-lasting and suitable for high-temperature applications. Even in harsh environments, the ST52 0 Seamless Tube retains mechanical properties such as high tensile strength. Whatever the circumstance, the DIN 1.0570 Seamless Steel Tubes and Pipes consistently perform well.
Renaissance Metal Craft Pvt. Ltd. is one of the leading suppliers & exporters of ST 52 Pipes all over the world. Contact us today with your requirements. We will get back to you with the best quote for your requirement for ST 52 Seamless Piping.
ST52 Seamless Pipes Specifications
Size
OD (4-190mm) x WT (0.5-15mm)
Our Products

Send us your enquiry today
We respond to all enquiries within 24 hours. Click on contact to send your requirement.
Contact us