Fabrication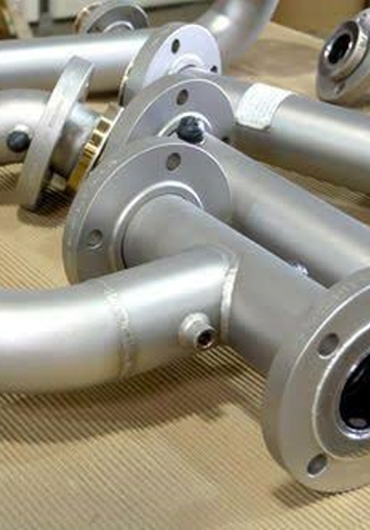 Pipe Spools, Cladded Plates, Cladded Tube Sheets, Coiled Pipes, Stainless Steel Fabrication
Renaissance Metal Craft Pvt. Ltd. provides the best fabrication services. We specialize in custom steel fabrication and we serve clients all over the world. We have a team of well trained & experienced fabricators and are able to deliver world class fabrication services. We can deliver a variety of fabrication services with high quality standards like piping spools, pipe coils, pipe cooling coils, cladded tube sheets, custom stainless steel fabrication, sheet metal fabrication, heavy structural fabrication, etc. We also fabricate steel equipment like unitanks, columns, reactors, pressure vessels, heat exchangers, chemical storage tanks & silos, etc. which are require in Chemical, Pharmaceutical, Oil & Gas, Petrochemical, Fertilizers, Distilleries, Breweries, FMCG, Nuclear and other industries.
Renaissance Metal Craft Pvt. Ltd. is specialized in stainless steel fabrication & other materials custom fabrication as per customer requirement. Our customers choose Renaissance Metal Craft Pvt. Ltd. among others for steel fabrication services because for best price, timely delivery and best quality fabrication service. Our range of value added services includes, but not limited to Bending, Pressing, Sawing, Punching, Shearing, Drilling, Flame Cutting, Plasma Cutting, CNC Bending, Rolling, Welding, etc. We have decades of experience in this steel fabrication industry and have made us one of the most trusted end-to-end solution providers in the industry. We have provided excellent steel fabrication services across various industries that require a broad range of steel fabrication products. For requirements of exact fabrication services or a custom fabrication as per detailed specifications for your unique needs Renaissance Metal Craft Pvt. Ltd. is here to help you. All our fabrication services are rendered in a timely manner.
Renaissance Metal Craft Pvt. Ltd. offers world class fabrication services all over the world. Contact us today with your requirements. We will get back to you with the best quote for your requirement of Steel Fabrication.
EXPORT COUNTRIES
Ethiopia | South Africa | Ghana | Tanzania | Argentina | Bolivia | Brazil | Chile | Colombia | Ecuador | Guyana | Paraguay | Peru | Suriname | Uruguay | Venezuela
Our Products

Send us your enquiry today
We respond to all enquiries within 24 hours. Click on contact to send your requirement.
Contact us