AL-6XN Plates Stockist, Exporter & Supplier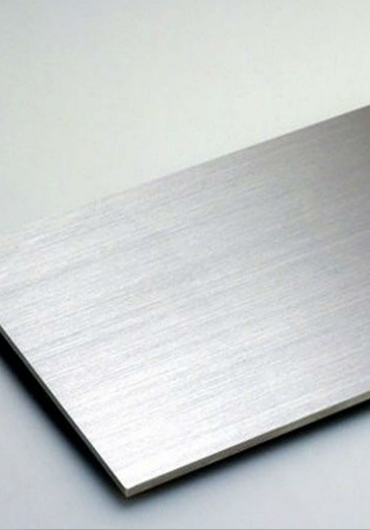 UNS N08367 Plates, AL6XN Plates, AL6XN Plates Stockist, AL6XN Plates Supplier, AL6XN Plates Exporter, UNS N08367 Plates Supplier, UNS N08367 Plates Stockist, UNS N08367 Plates Exorter.
AL6XN Plates imported by Renaissance Metal Craft Pvt. Ltd are austenitic stainless steel. It has been designed for marine applications as well. AL6XN Plates have properties that make them work well in corrosive environments. It is most certainly not inexpensive given the multifunctionality and reliability of heavy-duty usage of AL6XN Plates yet it is more cost-effective than other nickel-based alloys when it comes to durability, corrosion resistance, and formability that are required in different industrial applications.
A "super-austenitic" stainless alloy with high purity, nitrogen content, and low carbon content is called AL6XN from which the AL6XN Plate are made. Considering the environment in which it would be used for industrial applications, the AL6XN alloy was created to be a material resistant to seawater. The resistance qualities of AL6XN Plates have been demonstrated in a variety of extremely corrosive conditions. The best is the AL6XN alloy because of its great strength and resistance to corrosion, making the use of AL6XN Plate a popular choice.
Nickel-molybdenum alloy UNS N08367, often known as the AL6XN alloy, has good resistance to crevice corrosion and chloride pitting and hence preferred metal to make the AL 6XN Plate. It keeps its extremely high ductility and impact strength characteristics. AL6XN Plate is designed for use in offshore oil and gas production machinery, seawater heat exchangers, chemical process tanks, and pipelines.
AL6XN alloys' high strength and corrosion resistance make them a better choice than standard duplex stainless steels, AL6XN Plate are more cost-effective alternative to more expensive nickel-based alloys, hence AL6XN Plate which offer outstanding formability, weldability, strength, and corrosion resistance. Furthermore, the chromium, molybdenum, and nitrogen components of AL6XN Plate all contribute to resistance to acidic oxidising chloride solutions, which was previously only possible with nickel-based alloys. AL6XN is a solution for chloride ion stress corrosion cracking due to its high nickel (24%) and molybdenum (6.3%) concentrations.
AL6XN (UNS N08367) is a weldable stainless steel that consists of an alloy of nickel (24%), chromium (22%) and molybdenum (6.3%) with other trace elements such as nitrogen. AL6XN Plates are corrosion resistant, seawater resistant and have excellent weldability, strength, and formability. AL6XN Plates are available in different standards like ASTM, ASME, AISI, DIN, BS, EN IS, JIS & other international standards. Our AL6XN Plates come in different forms like Plain Sheet, Shim Sheet, Perforated Sheet, Chequered Plate, etc. and in finish like Hot rolled plate (HR), Cold rolled sheet (CR), 2B, 2D, BA (No. 8), Satin (Met with PVC Coated), No.1 Finish, No.4 Finish etc. We supply these Stainless-Steel AL6XN (UNS N08367) Plates to various industries & applications like oil & gas, seawater heat exchangers, chemical process pipelines & tanks, petrochemicals, pharmaceuticals industries, condensers, pulp and paper industry, etc.
Fabrication
The low carbon and high nitrogen concentrations of the AL6XN alloy (UNS N08367) reduce carbide and secondary phase precipitation during welding. As-welded components can thus be used if a suitably over-matched filler metal, such as alloy 625, is employed. The AL 6XN alloy may be welded in the field in the same way as other austenitic stainless steels are.
Corrosion Resistance
AL6XN is resistant to corrosion in high chloride conditions as well as various acids. The crucial pitting and crevice corrosion resistance relative to several other alloys is summarised below. In terms of characteristics, AL6XN outperforms stainless steel and all duplex grades. AL6XN (UNS N08367practical)'s resistance to chloride stress corrosion cracking has propelled AL6XN Plate into a wide range of saltwater applications, including seawater reverse osmosis.
The features of AL6XN Plates include,
AL6XN Plates has excellent resistance to pitting and crevice corrosion in chloride solutions.
In NaCl settings, AL6XN Plates practical resistance to stress corrosion cracking.
AL6XN Plates has high toughness and strength.
AL6XN Applications;
AL6XN Plate is used in the application of reverse osmosis desalination equipment and pumps, FGD, scrubbers, chemical process tanks and pipelines, tall oil distillation columns, seawater heat exchangers, and packed offshore oil and gas production equipment such as washers, vats, press rollers, and pipes at a pulp bleaching plant.
Renaissance Metal Craft Private Limited Ltd. is a leading AL6XN Plate stockholder, supplier, and exporter. The AL6XN Plate is custom cut to your requirements and comes with a full set of mill test data. Custom lengths and widths are available. We specialize in exports! We can also source numerous hard-to-find grades and non-standard sizes to satisfy our clients' specific needs. With our significant experience in processing steel plate goods, we can cut these AL6XN plates to size. We can offer cut-to-dimension AL6XN plates in both narrow and wide widths since Renaissance Metal Craft Pvt. Ltd. is a full-line producer and supplier of AL6XN plates. The AL6XN Plate is of high quality and will completely meet the needs of the customer.
Renaissance Metal Craft Pvt. Ltd. is one of the leading suppliers & exporters of AL6XN (UNS N08367) plates all over the world. Contact us today with your requirements. We will get back to you with the best quote for your requirement for Stainless Steel AL6XN (UNS N08367) Plates.
How to find something is AL6XN Sheet, AL6XN Plate or AL6XN Foil:;
AL6XN Plate are those with a thickness more than 6.35 mm.
AL6XN Sheet is defined as having a thickness higher than 0.15 mm but less than 6.35mm.
If the thickness is less than 0.15mm, it is AL6XN Foil.
AL6XN characteristics
In chloride solutions, it has excellent resistance to general corrosion, pitting corrosion, and crevice corrosion.
Practical stress corrosion resistance in sodium chloride settings
High tenacity
Weldable and malleable
Less expensive than traditional high nickel alloy stainless steels
AL-6XN Plates Specifications
AL-6XN Plates
Specification
Standard
ASTM A240, ASTM B688, ASME SA-240, ASME SB-688
AL-6XN Plates Chemical Composition
Element
Minimum (Weight %)
Maximum (Weight %)
AL-6XN Plates Common Trade Names
AL6XN, UNS N08367
AL-6XN Plates Applications & Uses
AL-6XN Plates are used in a wide range of applications. Some of the prominent applications are
FGD Scrubbers
Reverse osmosis desalination equipment and pumps
Chemical process tanks and pipelines
Distillation Columns
Heat Exchangers
Offshore Oil and Gas
Pulp bleaching plant washers, vats, press rolls and pipelines
EXPORT COUNTRIES
Ethiopia | South Africa | Ghana | Tanzania | Argentina | Bolivia | Brazil | Chile | Colombia | Ecuador | Guyana | Paraguay | Peru | Suriname | Uruguay | Venezuela
Our Products

Send us your enquiry today
We respond to all enquiries within 24 hours. Click on contact to send your requirement.
Contact us